Apoka Lodge (Kidepo Valley National Park) Uganda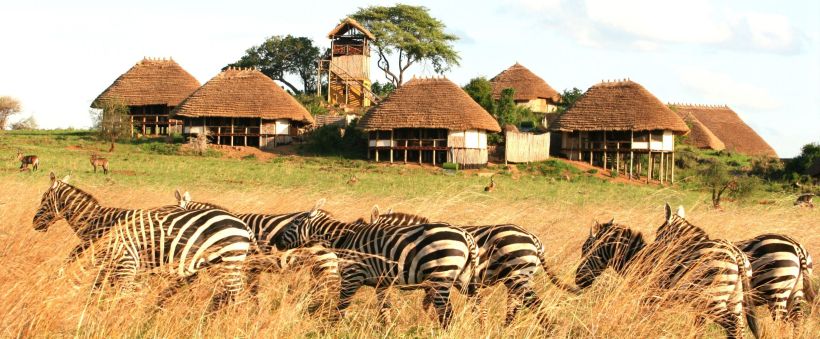 Location:
Kidepo Valley National Park - When you close your eyes and think of Africa, the landscape you imagine – the jagged hills, the golden grasses, the plains dotted with wildlife, the soft glowing light – is likely to be Kidepo. This is Uganda's most remote park, far away from city life. Kidepo has been classified as semi-desert – but this classification can be very misleading. Expansive grassy plains are dotted with big rocky outcrops and flanked by steep jagged mountains. In the distance to the north, perfect triangular conical mountains rise out of Sudanese soil, to the east is the sudden drop of the Great Rift – we are at the western edge of this rift, looking down into Kenya's Turkana country.
Dry river beds zig zag across the park, fringed with borassus and sausage trees. Tracts of forest also feature in this park, many have yet to be explored. Apoka is in the heart of Kidepo Valley National Park, tucked into the North-Eastern corner of Uganda where it meets Sudan and Kenya. By road it is at least 9 hours drive from Kampala. Most guests fly to Apoka, either using the lodge's private plane, or by chartering a private plane..or through the thrice-weekly scheduled service of the local scheduled airline Eagle Air. There is an airstrip very near the lodge and we run complimentary transfers to and from this strip.
Accommodation:
The rooms at Apoka have been built with comfort in mind. Everything is handmade by local craftsmen, everything is large and capacious. 10 expansive rooms with natural canvas walls surround a rocky kopje with endless views across the savannah. With inside sitting rooms and private verandas there are plenty of places to relax, read and write letters. Big hand-hewn beds with soft duvets are draped with mosquito nets, hand-woven woolen carpets, extra large plush towels, oversized dressing gowns…you may be as far away from the city as you'll ever be, but you won't miss a thing.
Each room has its own ensuite bathroom with double sink and large tropical shower. Water is heated by solar power and there is plenty of it. Step outside to a sheltered terrace and slip into your own outdoor stone bathtub, big enough to fit the whole family. All rooms have electric lights, power points.
• Swimming Pool
• Main lodge with dining room and plenty of lounge space
Activities:
• Game Drives
• Guided Walks – this is a must in Kidepo
• Birdwatching
• Visits to the local Karamajong community
• Spotlight night drives
Accommodation Rates:- From 470 per person per night sharing. Please contact us for a quote and suggested itinerary.